Spread Christmas Magic on Amalfi Paper!
20% off on all your orders over € 150 until december 15th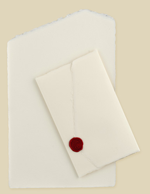 Wedding invitations made from high quality paper, according to the ancient traditions of Amalfi. Amalfi paper can be handwritten on, printed on in a traditional printers or using an ink-jet printer. We advise you to turn to a print shop and print in a brown italic font.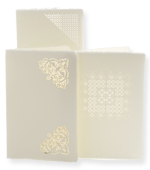 Carved wedding invitations carried out by laser. This method has allowed us to create a "lace" on the traditional handmade Amalfi paper.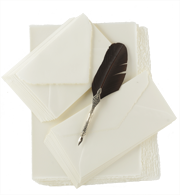 A selection of products for the ceremony. Place cards and wedding mass booklets in handmade Amalfi paper.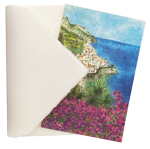 A selection of wedding invitations cards illustrated with watercolors of various artists for La Scuderia del Duca.

In the enchanting "Valle dei Mulini" in Amalfi we produce paper with the same characteristics from the past, maintaining the originality which has made it famous around the world.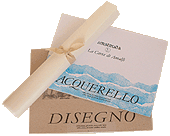 Amalfi paper in pure cotton that meets the requirements for maximum absorbency and durability. Requirements requested by artists and etchers.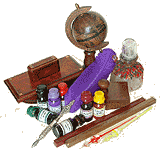 Calligraphy and desk products, seals, ink and sealing-wax.

Albums, books and address books with aged leather front covers. Reproductions of ancient bindings from the XV century. All handmade.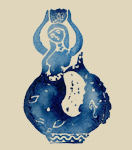 Bindings and desk objects in hand marbled and printed paper. Due to the technique used sheets are decorated one by one.

Books on art, prints, engravings and etchings.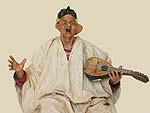 Around the world the mask of Pulcinella is the incarnation of Naples itself. His parody, irony and grimace highlight the neopolitan character. Pulcinella is traditionally guardian of the home, the work place and defends from bad luck and the evil eye. The head, the hands and the feet are made of terracotta. The clothes are made from old cotton.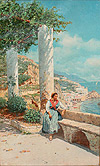 Paintings from the 1800s and 1900s, watercolours, bronze sculptures, prints, geographical maps, drawings, gouaches and ancient manuscripts on parchment. All products in the catalogue are complete with a certificate of guarantee stating the product's authenticity.